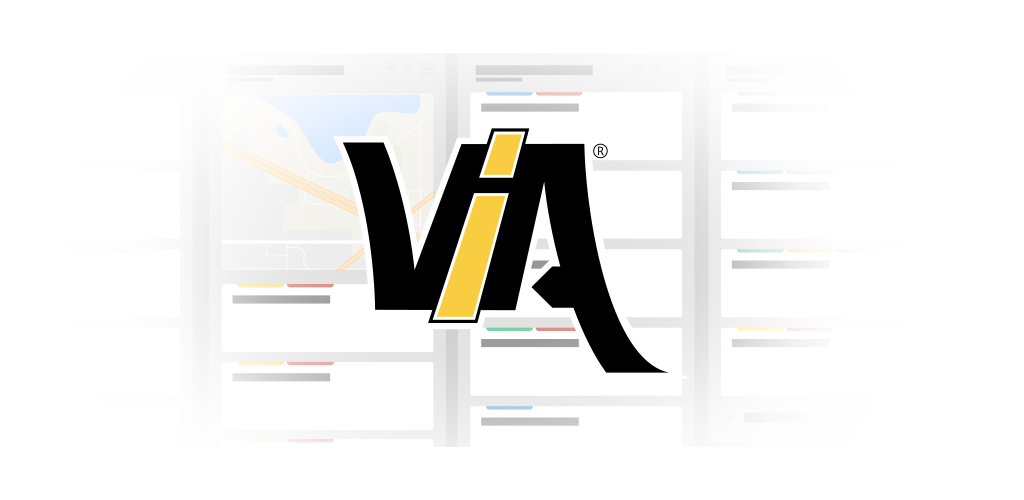 Tranztec's Revolutionary Planning and Tracking System
Freight Transportation is an extremely complicated business that involves coordination of freight, schedules, equipment, drivers, routes, regulations, and so much more. Software to ease the burden of managing these complex relationships and requirements has existed for many years and has made Transportation one of the most technologically advanced industries today.
Software, however, has grown more complex and the industry has largely forgotten its history and the visual nature of its operation. Gone are the days when you could, at a glance, see exactly where your resources are located, where they need to be, and how your fleet is performing. Today those important details are clouded by endless grids, data entry forms, and reports.
VIA® is a new road, a new path, a new direction for Transportation Technology. VIA® works with your existing software and provides a platform to visualize planning, tracing, and management simply, easily, and visually. VIA® is a web based freight planning and tracking system that works the way you do. With VIA® you organize cards that represent your freight, drivers, equipment, and routes into boards that you define. Using its process template system these cards are then grouped into logical lists that can be based on status, route, customer, or any other groupings that you define.
VIA® clears the fog of endless grids and reports by providing visualization features that give you an at-a-glance view of your freight. VIA® allows you to define as many boards as you need and to move cards easily from one board to another. Each card shows the most critical up-to-date information about the freight providing you current details such as stops, ETA, and routing, and more. Cards can be easily dragged and dropped from one list to another indicating status, route assignment, or other similar grouping. Load cards can be tagged with user-defined color coded labels for rapid identification. Assignments (driver, truck, and trailer) are clearly pinned to the top of each card so that you know what is covered and what isn't. Cards are able to display images that are attached, or even routing and transit details. Routing details are updated automatically as cards are moved and changed and provide details such as transit time, mileage, and other critical information like hours of service details and much more. Details are displayed in real-time without the need to hit a refresh button as cards are automatically and rapidly updated as information is changed.
VIA® features advanced integration capabilities that allow it to work hand in hand with your existing systems. Boards within VIA® can subscribe to information from external dispatch systems and load boards so that freight is automatically added to the appropriate board and list as they are created. Information that is updated within VIA® is automatically sent to the appropriate integrated application providing seamless real-time integration with your existing systems. VIA® is built on Tranztec's Tranzactor™ advanced workflow platform allowing it to be quickly and easily integrated with any third-party web service, application, or communication system. VIA® also provides built-in integration with our VIA® Mobile communications platform for full service track and trace for brokerage and logistics companies.
VIA® allows you to invite anyone to collaborate on any of your defined boards. You control the access and security. Collaborate with other dispatchers, departments, divisions, or even external personnel. Every action taken is audited and clearly available in the card details. VIA® allows you to create public boards to take collaboration to a whole new level. Leveraging VIA® makes it easy to engage with your company as well as cover your freight by making a public board allowing you to share loads. Simply move a load that you need covered to your public board and other companies can collaborate with you on covering the freight. They can either update the load directly using VIA® or they can choose to receive the load via EDI or E-mail. Shipment status updates and e-mail correspondence are automatically placed back on the load's card so you're entire organization is instantly updated with the latest information.
VIA® provides an unmatched interface for simplicity and ease of use in planning and tracking your freight. Our modern web interface is easy to use, simple to learn, and can be rapidly adopted into any size organization. VIA® provides you with a flexible platform to operate your business the way YOU work. You can, for example, create possible or potential loads within VIA® that are available for advanced planning and what-if scenarios. Loads can be quickly added to the board with minimal data entered or can be automatically created from an e-mail sent to the board. These potential loads are for planning purposes and can be automatically sent over to your dispatch system only when (and if) they become real. VIA® provides a simple and easy to use solution that covers almost any scenario. This is accomplished without the need for the complex training and deployment that is required in many of todays dispatch applications.